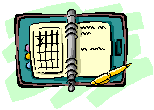 I relish the effective use of an adjective as much as any other writer. A well-placed insidious or boorish can position readers right where I want them. But too many adjectives can destroy the impact of the image I'm creating.
In Stein on Writing, Sol Stein makes this observation: "Experience proves that when two adjectives are used, eliminating either strengthens the text." As a reader who loves description, I wanted the acclaimed author and editor to be wrong. But when I applied his advice to the manuscripts I write and edit, I discovered he was correct.
Let's look at a couple of examples:
Brayden was a weak, ineffective leader. Which adjective would you eliminate? Weak seems vague to me. The sentence communicates the same thought without it: Brayden was an ineffective leader.
Emily wore a bright, floral scarf. Which adjective is easier to visualize? I'd choose floral. If it's important to know more about the scarf—something that would reveal character or advance plot—add more details. Otherwise, keep it simple.
In a letter to D.W. Bowdon, Mark Twain wrote, "When you catch an adjective, kill it. No, I don't mean utterly, but kill most of them—then the rest will be valuable. They weaken when they are close together. They give strength when they are wide apart."
Here's an illustration of what Twain means:
A canary yellow two-door sedan blocked the entrance.

What do the adjectives add to the meaning of the sentence? How many details does the reader need about the car? Unless the additional description is vital to the plot, use fewer words: A yellow sedan blocked the entrance.
Sometimes you don't need an adjective at all. Actions and dialogue communicate the same information in a more effective way:
Sarah was hot.

Replace with action: Sarah wiped the sweat off her forehead with the back of her hand.

Replace with dialogue: "You could roast a chicken on the sidewalk today."
Carl was hungry.
Replace with action: Carl opened a jar of peanut butter, then used his finger to scoop some out.
Replace with dialogue: "Where can a guy get some grub around here?"
This week, go on an adjective safari. Follow Twain's advice and "kill most of them."
Eliminate adjectives that slow the pace, muddy the meaning, or reduce the impact of your sentences. Your manuscript will be stronger without them.
Sources:
Sol Stein. Stein on Writing (New York: St. Martin's Press), 1995, 198.
TwainQuotes.com. http://www.twainquotes.com/Adjectives.html