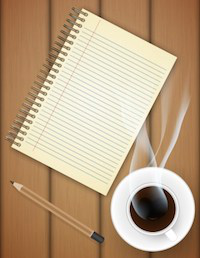 By Larry J. Leech II
Can you imagine undertaking a major home renovation without a schedule or plan? Probably not. So why then do writers often work on a project without a writing schedule? No wonder many need a mad dash to finish. Or, worse, don't finish.
Here's an illustration I use to help a writer set up their schedule:
I start with, "Let's say you want to write a 60,000-word book and need six months to write. That would come out to 10,000 words a month."
Every time, the person will nod at this point.
Then I ask, "How many weeks in a month?"
"Four."
"How many words a week is that?"
Some fire back with an answer right away. Others scrunch their mouth and look toward the heavens. No matter the look or how quick the answer comes, the answer is always the same: 2,500. The nod gets a little bigger.
Then I ask my next-to-last question: "With five writings day in a week, how many words a day is that?" Before the person can answer, I strongly encourage them to not write more than five days a week. I remind them that most professional writers do not write seven days a week. Then I ask again: "With five writing days, how many words a day is that?"
"Five hundred."
And the light goes on. The smile widens. The nod goes almost to the chin.
Now, to them, the 60,000-word manuscript has become much more manageable. Moreso than trying to write seven hours every Saturday. Most new writers don't have the discipline to write for seven hours straight.
By establishing and keeping to a schedule, you will gain momentum because the project will never be far from your mind. At first, writing 500 words may take 60-90 minutes. That's okay. About the third week, you will see a decrease in the time. At the six-week mark, you will need less time to write 500 words.
In this scenario, when do you edit? I'm a firm believer of writing first and editing later. Others write a little bit, edit that, write more, edit that, and so on and so on. You have to find what works best for you. However, in my experience, new writers will edit and edit and edit to the point that they do not move forward on the project. That is one reason I suggest finish the project before tackling the beast of editing. If you want tips on editing, check out Anna Floit's workshop on self-editing.
An important aspect of a writing schedule is incorporating celebrations. When you hit pre-determined marks—first-week goal, one-month goal, etc.—celebrate! Yes, treat yourself to something. Could be a hot beverage at a local coffee shop. Could be dinner out with the family. Whatever it is—celebrate.
This writing stuff is not an easy gig. Enjoy the journey by sticking to your schedule and celebrating along the way.
Your assignment: The illustration above will work for any word count and length of time. This week, determine the number of words for your project (you may already know) and how much time you need to write it. Use the illustration above to figure how many words you need to write each day. Be realistic. More than 750 a day for a new writer might be tough. And don't forget to celebrate when you hit your marks!