Y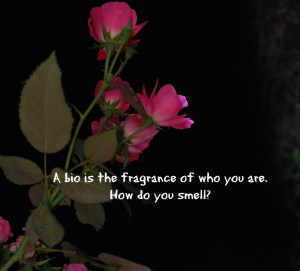 our bio is the fragrance of who you are. So how do you smell?
Learning to write a solid and appropriate bio takes practice and there are a few rules that must apply.
Depending on who is doing the teaching, you'll find there are at least three types of bios. They're all graced with unique names, but regardless of how you look at them, they're still the same. Bios are the essence of who you are and learning when and where pertinent information is to be used is important.
We'll divide bios into three groups.
A Working Bio
A Professional Bio
A Simple Bio
THE WORKING BIO
A working bio is what you will see tacked to blogs and interviews. It's relaxed but not silly. It's informative but not "personal". It's not overdone and doesn't list every work you've ever written. Oddly enough, the more seasoned a writer becomes, the less attention they pay to the accolades and the shorter their bios become. As a new writer, we sometimes feel we have to prove ourselves when truthfully, you don't. The reader really isn't impressed by long lists of published works. They are interested in the person. Simple and true. When you write your bio, keep this in mind. You don't have to work to impress. Just tell the reader who you are. They're already reading what you've written because they enjoy it. Let them know "you." Readers are not interested in your life history, how you became a writer, or the knocks it took to get you there, so let them get to know the person behind the work.
Write your working bio with your primary work in the forefront. List what you currently do. Add a touch of credentialing so the reader sees you are qualified and then briefly share something personal – a hobby, your family, or something you enjoy. Make yourself real to the reader, not pasted up. Your working bio should be 50-75 words and you can go to 100 but remember, what you say needs to be pertinent to what the readers see. These bios are more relaxed and friendly.
The first rule of thumb for any bio is to understand they are ALWAYS written in 3rd person.
Jane Doe is a writer, living in New Jersey. She is the editor for Children's Wordfest and is published in numerous magazines and blogs.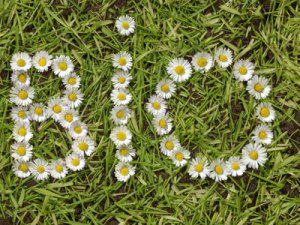 Photo courtesy jorgensundberg.net
Bios are not written in 1st person.
My name is Jane Doe and I am a writer. I live in New Jersey and I am the editor for Children's Wordfest. I've been published in Soul Magazine, Hearts Blooming Magazine, Christian Debut, Focus on the Family, CBN, Toys-r-Us, and Glee Kids Books.
Just an FYI: Readers do not need to know your children's names, their ages, and when they were potty trained. Nor do they care how many pets you care for, their names, and/or antics. This is labeled as too much information. Simply stating: Jane is married and has 4 children is enough.
The Professional Bio
The professional bio is a different animal. This bio is generally found inside proposals, on more prestigious or academic works. The professional bio is used when credentialing is important. For example, publishers and academia will want to see your experience to get a grasp of your knowledge and experience. Inside a proposal, publishers will look at a professional bio to see what type of outreach a writer has (otherwise known as platform). What groups or individuals does this writer know or take part in who might be interested in their work.
In the professional bio you will want to list areas your work is published and where, however, you do not want to over do it. A professional bio can be much longer depending on what it's use is. For high level jobs a very in-depth bio may be necessary. These bios can be up two pages – again, depending on what it's required us is. For example:
Jane Doe is an author and speaker. She has her PhD in Physical Sciences and teaches at Northern State University. Jane has written for Science Today, Modern Uses of Physical Science, and in the New England Journal of Science. Her work focuses toward developing elementary textbooks and training science teachers to effectively apply physical sciences to everyday life. Jane lives with her family in Northern Maine. Her studies and teaching are utilized in teacher conferences across the nation.

From this bio, the readers see Jane is accomplished in her work and she is well-known. We see Jane's professional work life and it's clear and concise.
The Simple Bio
The simple bio is just that. Simple. Often called a tag bio, it's a one or two line bio that sums the author up concisely. This bio is frequently found at the bottom of short magazine or newspaper articles. Like a synopsis, most authors would rather write a full novel over writing a simple bio or synopsis. It's because it must be short and to the point, yet offer the important and necessary information.
For example:
Jane Doe is an author and nationally known speaker. Her work in the Physical Sciences is renowned and used internationally.
Now that you understand what a bio is – write one of each. Store these in files to be updated as your writing career progresses.
Photo courtesy jorgensundberg.net