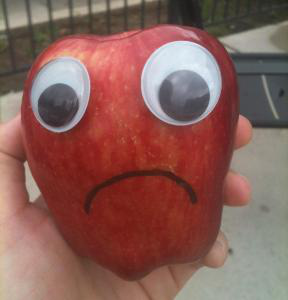 Rejection is not fun. I can't think of a soul who lives for the next rejection, whether it be in our families, our jobs, or our writing career.
These days when a child is told no, the next thing to expect is wailing . . . maybe a little kicking and screaming, and pouting. All this before the child gets over it and moves past. But if you're a writer, rejection can become stifling.
We spend hours bent over a computer keyboard typing out the work of a lifetime. There is a vested interest in this work no one else understands, so when we open an email and find that Joe, Editor has "passed" on our manuscript or article. It stings.
I sorted through my file folder of rejection letters last week. In ten years of writing, I've gotten more rejections than I have finished projects. It didn't seem quite right, but as I gleaned through the letters attached to failed works, I realized the value of hindsight.
My first work was a novel I was sure God gifted to me (sound familiar?). I woke up in the middle of the night, rushed into my office and within minutes, I'd plotted out an entire "Lord of the Rings" like kingdom. My characters were in place, the monsters were there. In my eyes, it was a sure-fire thing.
Due diligence was my friend while, over the next three months, I pounded out this great story from God. When the piece was complete, I sent it for a paid critique at the upcoming conference I was to attend. The critiquer, an author of over 50 books, gave me wonderful feedback. He liked the story, remarked it didn't hold the marks of a first time writer, and he introduced me to the acquisitions editor of a major publishing house – who on the recommendation of my critiquer, asked for the proposal. I was thrilled.
Months passed and finally the mail delivered my proposal back to me with a very nice letter.
Nicely done. The story is strong, the writing good. Though I see potential in this work, I cannot see that this story could stand against works such as Lord of the Rings.
"Really? We all know I'm a much writer than Tolkien. Really?" I was rejected. Even with the criticism gently tucked between two bits of compliment, it hurt. Years past that work, I can look over it and see why it couldn't stand against works like Lord of the Rings. The adage hindsight is 20/20 rang true.
Rejection is never easy, but it is part of the process. To succeed we must fail. It's failure that forces us to practice, learn, and improve. Improvement leads to success. These days I look over the rejection letters and raise a glass. "Hail to the Rejection." Because of it, I'll grow to be better.
I've since learned, moving past rejection is not as hard as it was in the early years thanks to those hindsight lessons. There's consolation in knowing even the big time writers still get rejected. Before you curl into the fetal position over rejection letters, follow these tips to get past the hump:
Mourn a few days and then get over it
Pull out the suggestions along with a few writing books and study. Learn how to repair the things that helped bring the rejection.
Understand there is always a better words and different twists that can improve your work.
Write and rewrite.
Begin a new work.
Move ahead with the determination to be better at what you do. Attitude is everything.
Rejections sting a little but in retrospect, they are the stair steps to success. Choose to look at them with the attitude of persistence and you will climb your way to publication.

Picture courtesy of morguefile.com & sophisticat