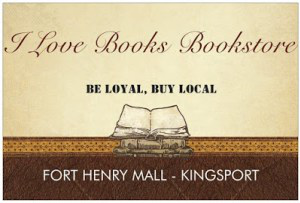 I've always been a hometown gal. I buy my groceries at the hometown grocer over the larger superstore and shop at the local small town hardware store, who—by the way knows my name and still says, "Hi, what can we do ya for today? I buy my flowers from the street side plant store, and my veggies at the Farmer's Market.
I love our local small businesses, but when my debut novel hit the shelves, I fell prey to the obvious; the chain stores from the Christian stores to the big boys like Books-A-Million and Barnes & Noble. Not one of them carried my book instore. Needless to say, I was disappointed. My book was, after all, published by a large traditional house. Shouldn't it be on their shelves?
Like any debut author, I could only imagine my novel prominently displayed on the shelves of these retailers. Being a small retail lover, I'm embarrassed our small local bookstore never occurred to me—well, in my defense. . .the store is in the mall and I rarely go to the mall (like I said, I'm shopping small and local over the mall).
But when a friend approached our local small bookstore and asked if he could get the book, it started a chain of events that I could have never imagined.
The retailer ordered seven books—six for my friend and one for himself. Unbeknownst to me, he read the book and then ordered thirty more. He purchased an ad in the local newspaper and called me to come by and sign the books. When I did, he plopped a sticker on the front that said, "autographed copy."
I sent him an invitation to my launch party (he was one of 50 invitations) and I anticipated the law of average—one person for every 10 invitations. In the meantime, I visited his store several times as a patron. This store owner placed a 16×20 framed sign of my book cover at the entrance of his store, and strategically placed it on the top shelf of the main shelf.
THE LAUNCH PARTY
Before I knew it, my launch party arrived and I sweated the huge cake my husband insisted on ordering, wondering if those five people I anticipated coming could eat such a big cake.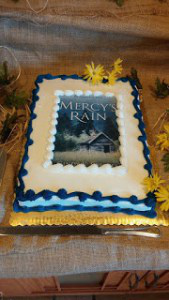 Not only did those five come but ten, fifty, one-hundred, ONE-HUNDRED-FIFTY people passed through my launch party. We obviously beat the law of average – but not by my hand. By the hand of this local retailer.
All that to say, had it not been for this wonderful small, local retailer, I'd have carried home a big chunk of cake. This retailer prominently placed my launch invitation on his counter and every time he sold a book, he'd say, "Drop by her launch party and let her add your name inside the book." And they came.
As authors we tend to look toward the big chain retailers. It's our dream for our books to be "out there." But what does it mean to be "out there" if your books aren't in the store? Most folks won't take time to order the book from the chain store then return days later to pick it up. It's not convenient.
Meet your local retailers
Get to know them. Advertise their store alongside your book. Send them thank you notes, visit them regularly. These people WANT patrons in their stores and they understand the business of selling books. They take the Field of Dreams Approach – "Build it and they will come." And they do.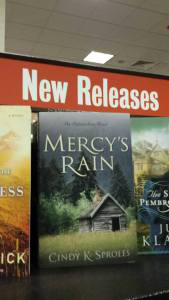 After 1 year, our I Love Books Bookstore is on the upside of selling nearly 800 copies of Mercy's Rain. As quickly as he gets the book in the store it's going right back out in the bags of customers. Mr. Moody's personal efforts to better his store has given us both success. He continues to run ads in the local paper and make wonderful storefront window displays of Mercy's Rain. The result. . . he continues to sell books.
Perhaps the bigger picture of marketing our books is not the chain stores, but getting back to the one-on-one customer level of the local small retailer. Big is not always better and it's certainly not the mark of having arrived. Thanks to my local retailer, four months after the release of Mercy's Rain local buzz is still growing and the novel is circulating our tri-city area. In the words of my local retailer, "I fully expect to sell another 100 books by summer."
Support your local book retailers and form a partnership that stands firm. A joint effort brings success on many levels. Thanks to retailers like this Mercy's Rain is a best seller.