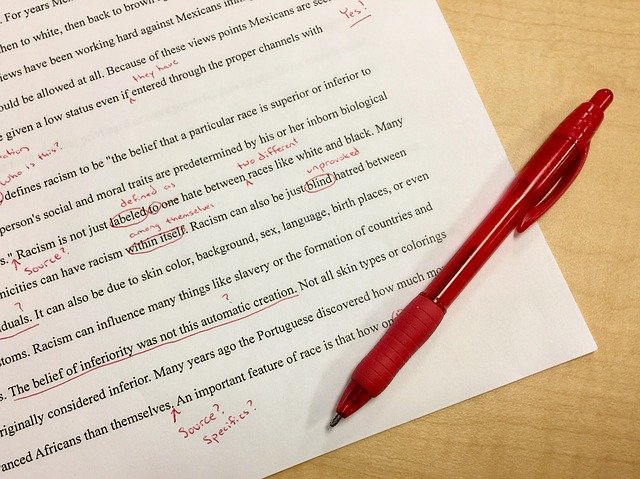 Self-Editing Is Not for the Faint of Heart
By Andrea Merrell
Writing without revising is the literary equivalent
of waltzing gaily out of the house in your underwear.
~ Patricia Fuller
If I want to see my husband cringe, all I have to do is say, "Let's move the furniture." This is especially true during the holidays as we make room for the Christmas tree. He expects me to know exactly where to place each piece so he only has to move it once.
If it were only that easy.
The truth: I have an idea in my head where something should be placed.
The problem: Once it gets there, it doesn't fit the overall plan.
Writing is much the same as rearranging furniture. Many times when we get our words out of our head and in front of our eyes, what made sense before doesn't make sense now. That's when the real work begins.
Once we have our words on paper—or tucked away in our computer—it's time for the editing/proofreading/rewriting process. This is not for the faint of heart. But if we want our words to shine, we can't skip this process. Even if we plan to hire a professional editor, our manuscript should be as clean as possible before we send it into cyberspace.
Here are a few elements to look for when beginning the process:
Start with the basics: grammar, punctuation, and spelling.
Look up words you're unsure of, especially hyphenated words.
Don't mix past and present tense, especially in the same paragraph.
Avoid overusing quotation marks and exclamation points.
Use correct formatting (12 pt. Times New Roman, double-spacing, one-inch margins). No fancy fonts, and no bold, all-capped, or underlined words.
Glance at your paragraphs. Are you beginning too many with the same word (He, She, They … and especially I)?
Familiarize yourself with your pet words and phrases, and don't use them over and over throughout your manuscript. Do a word search and eliminate them.
Get rid of weasel words (that, just, really, because, however, therefore, thus, so), and be careful not to overuse adverbs (suddenly, quickly, quietly, softly, gently … well, you get the idea). Use strong verbs instead.
Read your manuscript aloud for syntax and sentence structure. There should be a natural flow to your story (both fiction and nonfiction), and events must be in chronological order. Learn how to weave-in backstory or flashbacks without losing your reader.
Be careful with POV (point of view). No head-hopping.
Show, don't tell your story. Paint a picture with your words.
Editing and rewriting can also be compared to remodeling a house. It's easier to build a house from the ground up, but sometimes the initial structure is beautiful and sound—it just needs to be made a little stronger by some important and well-thought-out additions or changes.
Don't let the process derail you. It's a natural part of the writer's life. Whatever you do, keep working until your manuscript is as clean and professional as possible.
ASSIGNMENT:
Take a look at your WIP (work in progress), and see how many of the elements we talked about, need to be addressed. In the next few weeks, we will look a little closer at ways to improve our writing.
_______
Photo courtesy of pixabay.com and annekarakash