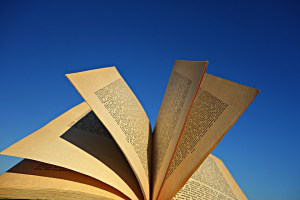 By Nancy Lohr
Assignment 8 – Titles
The title of your book (or shorter work) is likely your reader's introduction to your content, so you need to think about what those few words say. It is not unusual for a writer to try to describe the book in the title or to write a very short synopsis. Some readers will find that enough to open the cover and see whether the first few paragraphs are engaging. But some readers will have learned enough from the synopsis to move on to another book, another author. For those readers you need a hook, an enticing hint of what is to come.
In broad strokes, a title that describes is better suited to nonfiction, and a title that intrigues is better suited to fiction. All titles, however, should invite the reader in.
Assignment:
Analyze a book from your book shelves at home, your local library, or an online booksellers site. Is the title a description or a hook? Do you know what the book will be about or is the content veiled, but interesting? Does the title make the book sound interesting? If so, why? If not, why not?
Some titles are words taken directly from the text of the book. Look for the title to show up in what you are reading, and when it does stop and consider what those words say in the context of the sentence and then what they say about the whole book.
Take your work in progress and intentionally write a title that describes and another title that intrigues. Which title seems most appealing to the target reader?
Assignment 9 – The Mighty Sentence
Sentences should combine craft, comprehension, and appreciation. Work to write sentences that will draw readers in and make them want more.
Assignment: When you are tempted to say of something you are reading, "Hey, listen to this," take the time to record that sentence where you can return to it for pleasure or for analysis. This can be in a handwritten journal or notebook, but it can be a computer file too.
Examples
—It was in the books while it was still in the sky. (from John Updike essay about a Ted Williams' home run)
—The goodness of the mother is written in the gaiety of the child. (Victor Hugo, Les Misérables)
— "Victorious and dead," some muttered, "is a poor sort of victory." (M. L. Steadman, The Light Between Oceans)
—Craftsmanship isn't like water in an earthen pot, to be taken out by the dipperful until it's empty. No, the more drawn out the more remains. (Lloyd Alexander, Taran Wanderer)
What in those sentences draws you in? Why? If you are not drawn in, why not?
Find a strong sentence in what you are currently reading and ask the same questions.
Find a strong sentence in your work in progress and ask the same questions.