Sensory Perception Enhances Your Writing
By Andrea Merrell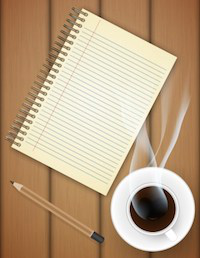 Sensory perception is invaluable for the writer. It's a simple matter of being alert, perceiving the world around us with our senses.
A few years ago, I was part of a writers' conference at a local university. After the lunch break, I watched with keen interest as a group of students came through the door where the books were being sold. Half of the students were blindfolded and being led by the teacher. As they entered the building, the teacher instructed those who were blindfolded to let their senses kick in. To absorb all they could from their surroundings—things they could hear, feel, touch, or smell. The rest of the students—the ones not encumbered by a scarf over their eyes—were to take note of what they could see. When the blindfolds were removed, the young men and women all began talking at once, eager to share what they had noticed. It was amazing how much they gleaned from this exercise.
Another time on a ladies' retreat our leader took us on a hike. As we neared the lake we were instructed to stop talking and listen. After ten minutes, each lady shared what she heard: airplanes overhead, an owl, ducks on the lake, the wind whispering through the trees. One person thought she heard the sound of a gunshot, while another smelled the rancid s
mell of someone's charred hamburgers.
Allowing our characters to use their senses will take our writing to the next level. We can make our words come alive as we invite our readers to experience our story, not just read about it.
Can they see the scene unfolding as it plays out in their mind?
Are there sounds that might cause anxiety or fear?
What can they smell? Maybe it's a burned burger or the delightful aroma of fresh baked muffins coming from the local bakery.
Is the food described in such a way that you reader can almost taste it?
Do the objects in the room seem so real they can almost touch them?
Don't just relate the facts. Help your reader connect with your characters and get lost in your plot. Reading a good book should be like watching a good movie. When you learn to show and not tell, you can better tug on your reader's emotions. This can be done no matter what you're writing, even an article or simple devotion. You can paint a beautiful picture as you make your words sing. Your reader may not remember every word you said, but they will remember how you made them feel.
Assignment: The Connor family is working together to create the best birthday party ever for eight-year-old Lucy. As the youngest of five children, Lucy has just recovered from a tonsillectomy and two days in the hospital. Write a few paragraphs describing Lucy's party using each of the five senses.