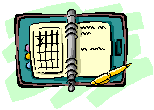 It is usually said by someone who is not progressing as quickly as they would like in their career. It applies to writing for publication as much—or more so—as in other endeavors. You've heard it often: "It's not what you know, it's who you know."
It may sound cynical. It may be discouraging. You may not want to believe it. But it's true.
To some, of course, that means everyone else gets the breaks. Chelsea Clinton's books (yes, she has published more than one) may be works of genius, but everyone knows she wouldn't have stood a chance if her name were Chelsea Gunderschmutz. The same goes for Jenna Bush Hager and Barbara Pierce Bush, the daughters and granddaughters of former presidents who wrote a book about, well, being sisters.
So those of us who aspire to and work at being writers and authors but don't know anyone powerful or famous should just give up, right?
Wrong.
The cynic can feel perfectly justified in saying, "It's not what you know, it's who you know."
But so can the optimist. Because the same general sentiment can be expressed like this: "Christian publishing, like the rest of life, is all about relationships."
That is one of the many reasons I attend as many writers' conferences as I can, and why I encourage writers, both aspiring and accomplished, to do so. There, an aspiring writer will meet other aspiring writers, as well as authors, agents, and editors—and many of those will become friends. Some will become close friends, and lifelong friends. And some of those people may someday teach, inspire, and even open doors that you never would have imagined opening to you.
Back when the dinosaurs were still dying out, I was assigned a roommate at a writers' conference. He and I hit it off immediately, and stayed up talking words, books, and movies (well, him mostly) until 3 a.m. We've been fast friends ever since, and he still does most of the talking. But over the years he has also introduced me to many other friends and invited me repeatedly to teach courses in his professional writing program.
Many years ago, I met an editor named Steve at a writers' conference. We became friends (I was willing to overlook his flaws). He later became an agent, and still later became my agent. And still later, I became an agent in his literary agency.
A few years ago, I was renewing fellowship with my friends Michelle and Edie at a writer's conference when one or both of them told me of an online job opening for a blogger. They recommended me to the editor (I think), and I got the job. A paying job. For actual money.
So go ahead. Tut-tut and say, "It's not what you know, it's who you know," if you like. But writers, agents, editors, and publishers happen to like working with people they know, trust, and like—which is why "Christian publishing, like the rest of life, is all about relationships."
_____________________
Your assignment for this conference
is to start a list of peers, faculty, and friends. Keep this list updated. Keep in touch with those on your list. These will become the ones who eventually will help you excel and you will do the same for them.
If you have not written your bio and sent it to Cindy, do it now. The Asheville Christian Writers Conference gives you a leg up on that list by providing you a roster with contact information. Don't miss out on this. It will prove valuable for you down the road.
Finally, if you haven't begun building your platform, start now by listing groups, churches, stores, individuals you can contact as you grow your posse. These are vital tools for your writing career. Don't wait to get started.