What in the World is a One-Sheet?
By Andrea Merrell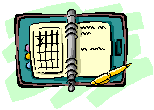 "Do you have a one-sheet?" the woman asked me before my first conference.
My deer-in-the-headlights response should have been enough, but I said, "What in the world is a one-sheet?"
After we both laughed—and my embarrassment faded away—she explained to me the basics of this single sheet of paper.
Typically, a one-sheet consists of the following:
Author's name and contact info
Author's bio and photo
Project title
Genre
Word count
Completion date
A short (think back-cover blurb) synopsis
This is a valuable tool to have in your writer's toolbox for every project, especially those you plan to pitch to an agent, editor, or publisher. While it's true that not everyone will require you to have a one-sheet, one writer calls it a good "cheat sheet." Everything you need too explain about your project is listed on that piece of paper. Think of it as a snapshot.
A one-sheet can be anything from basic information to a professionally produced poster (as long as it's not too busy). Keep your snapshot as concise and compelling as possible, so that whomever you are pitching to will want to see more.
Assignment: Create a one-sheet. You can ask a critique buddy or do a Google search if you need ideas on layout. Be as creative as you'd like, just be sure to include all the pertinent information. You can use one of your fifteen minute appointments at the conference if you'd like to get feedback and suggestions.
---
Additional information from Cindy: There is controversay in the industry these days as to whether an author even needs a one-sheet. Some editors prefer them while others see them as a waste. BUT like Andrea said, your one-sheet can be your cheat sheet. As an editor who sits across the table from conferees pitching their work, I PERSONALLY, would prefer you use that 15-minute time frame to the best of your ability. That means, when you start to pitch your work, your one-sheet can help you stay on track. Nerves will make you forget but having a one-sheet will serve as a memory jogger. I would rather you be comfortable and READ your one-sheet blurb than to have you stammering and trying to remember what you need to say. Remember, this is a tool.
One other thing. If an editor doesn't ask you for a one-sheet, don't offer it. It's primarily a transportation thing. Put yourself in our place. You might see 30 conferees during a 7 hour day, plus those you talk with at meals, walking to classes, attending classes. It's an easy possibility, that by the end of a conference day, you could have 50 sheets of paper to lug around and try to get on a plane in a day when overhead bins are being shrunk. Don't be offended if an editor doesn't want to ask for your one-sheet. If they want it, they will ask. Your job is to simply be prepared to offer the best pitch you can offer. If a one-sheet helps – use it.