UPDATE TIME!
From here forward - I promise time will fly. As you read our newsletters be aware there will some things I continue to repeat. Keep in mind, we are still adding conferees and they need the information to catch up but that DOES NOT EXCUSE you from reading this letter. You will see new info as well.

REGISTRATIONS ARE SELLING OUT - We have 22 off-campus slots available and if it tells you anything, I have had five in the last 24 hours. Encourage your friends who are holding off a decision to attend, to register soon. This conference sells out yearly and as we enter into the holidays, we find folks love to give a registration as a Christmas gift. If you know someone interested in making ACWC a Christmas gift have them email me at [email protected] This way we can be sure to make it happen.

I did say this last time, but it bears repeating - PLEASE DO NOT RESPOND TO THIS EMAIL BY HITTING REPLY. When you do that EVERYONE gets the email and not only that but a huge thread starts and most of the time, I can't see who sent what. If you need to send me a note, email me at [email protected]. Also mark this email address as a safe email in your browser security so we don't go to spam. If you miss a newsletter, they are all posted on the website under newsletters. Everyone SHOULD have the information in one way or another. (In other words, I didn't know...doesn't work. Grin)

Pay the Piper - Sorry...sad analogy. Denise sent out invoices a couple of weeks ago. She and I are both sweating as we wait for accounts to be settled. I encourage you to please take care of those invoices as soon as possible so we are able to move forward paying the bills. Trust me...my personal bank account will just roll over and laugh at $30K worth of registrations. These invoices are due by Jan 1 but if you can see your way clear to go ahead and take care of these, Denise and I would be grateful.

[email protected]. - Look there's my email address again!

Classes for 2023 - Are they on the site yet? Yes and no. Some are some aren't. I am working now to secure the remainder of those classes from the faculty. This is usually one of the last things to hit the site simply because things change. Faculty changes at the last minute. Inspiration changes. So, keep your drawers on as my grandma used to say...we'll have these up soon.

2023 Schedule - Terri and I will be working on the schedule this weekend. And we will be setting mentoring schedules in place as well as paid critiques. We encourage you to visit our page link for Critiques and Mentoring. You can see the mentors listed and also the faculty that will be doing paid critiques. Please note, you will have an opportunity for a free 15-minute appointment or two at the conference, but paid mentoring is 1 hour of personal one-on-one and paid critiques are in-depth line-for-lines done for you. Both are well worth your money. Critiques are pretty available, however, mentoring has only got a few slots. If you are interested in mentoring, then you need to contact Terri quickly. These fill up FAST. Contact Terri at [email protected].

FACULTY - IF YOU HAVE NOT SENT YOUR CLASS LIST TO ME - PLEASE DO. Some of you have sent them others have not, and that may be because I haven't asked yet. :) I'm asking now. Life is an adventure at the SPROLES HOUSE!

The Sparrow Award Book Contest and the Kingdom Devotions Contest are underway. We are already getting submissions. Entering a contest is one of the smartest things you can do. It forces you to meet deadlines, to really work on polishing your work, and to step out of your comfort zone to allow your work to be seen by others. We encourage you to enter. Visit our link at Sparrow Book Award and enter.


THE BOB BOX
We at Christian Devotions Ministries believe God's calling to serve the widows, the sick, and the poor. Each year we ask our conferees to plan in advance to donate a small amount to our "BOB BOX." Because we have skin in this game, we have chosen the Cystic Fibrosis Foundation to support yearly. Our own Bob Hostetler has two grandchildren who directly benefit from the research and up-and-coming medications to manage their cystic fibrosis.

Christian Devotions and our own Eddie Jones and Pat Patterson are also helping those in need at Moores Square in Raleigh. Winter is coming on and we need to get socks, jackets, hats and gloves, even shoes for some. This year we will share our missions fund between Cystic Fibrosis and Moores Square. We place a box on our bookstore table each year, and we ask that if you are moved, to give. At the end of the conference, we total the funds and then Christian Devotions MATCHES what is in the box. Our donations have been as much as $3000 in a year. Bob does a yearly fundraiser and this goes into his pot, which is then turned over to the company his son works for, who DOUBLES the amount. You can see that our $3K quickly becomes $6K. So, we give you a heads-up now, so you can plan ahead and we pray you will be part of our giving back. It's what God calls us to do - to care for those who need help. Help us help the Cystic Fibrosis Foundation and those in need at Moores Square.

AGAIN - I simply ask that you pray over this conference. Pray for safety, good weather, that God will send those He'd have attend so that every slot is filled to over-flowing with wonderful conferees to keep our faculty hopping. Pray for our provision. Pray for the Cove and their folks who work with us because, THEY ARE PRAYING FOR YOU ALREADY. Let us know if we can add you to our bi-weekly prayer warriors so you can walk with us through the obedience of prayer. Pray that this conference will be focused on the work of the Father and that His calling to you will be clear. NO JOKE....pray.
_______________________________________________________________________________________

The Color of Fear
It's been a curse since childhood – fear. I've told my Bible study gals. My ministry partner knows it. I even told my friend who is a counselor. I've always been fearful.
Go figure. I never recall any horrible thing happening to me as a child. My family was good, loving, and caring. There was no abuse. No terrible skeletons in the closet (this could be considered a pun). Nobody jumped out from behind a door to scare me...oh...wait...there was this movie my Mom watched, that I remember.
She and her friend would go to the Saturday matinee occasionally. I remember, sitting on the floor of the theatre, tossing jack rocks in a cloth-lined box so they made no noise, then standing up and looking at the screen only to see a head roll down this long Gone-with-the-Wind-like spiral staircase. I gulped, hit the floor, and never raised my head again. I couldn't sleep for days, though it felt like weeks or months. I dreaded nightfall, and let's just say, I wasn't crazy about storms or movies after that either. Bette Davis didn't need a script like Texas Chainsaw Murder movie."
I suppose I blame the beginning of my fear on that movie. I've never watched horror flicks, and Halloween was never, ever fun for me. When my husband and adult sons took me to Disney World's Haunted Mansion (before Disney went to south to the hottest place in the world), I backed against the wall, then slid into a squat position so anyone who might want to grab me, couldn't.
Whatever the reason, fear has always nipped at my heels. I credit myself and my faith with forging ahead and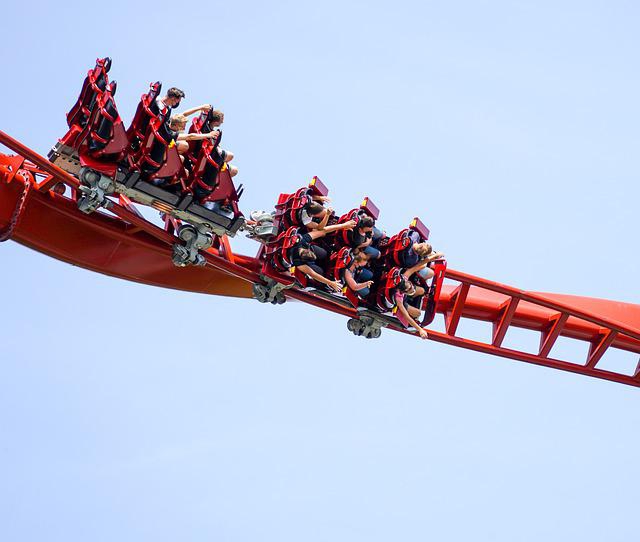 through whatever scares me, but that doesn't prevent me from being afraid. It just means, I didn't let it freeze me in my tracks. I hate roller coasters too, but I ride them with my husband and sons, because...well...I want to do it with my family. This doesn't lessen the fact that they have to pry my white-knuckled fingers loose from the safety bar and then wait while I sob on a bench to regain my wits. In all fairness to my family, it can be somewhat humorous.
All this to say, fear lives in the closet of my heart.
I once had a friend ask me to put a color to my fear. I laughed hysterically and said, "I'm color blind." That's true. But if I were to put a realistic color to my fear, I would say blue. Not the soft blue of the sky, but the blackish, blue of deep water. So, why, you ask, this long historical process of my fear? Because, I had a well-meaning friend say some years ago, "You don't trust God if you are afraid."
I kinda cocked my head and thought about that. In fact, I carried it for a long time in my spiritual life, wondering if...could they be right? Did I not trust God? That scared me.
I believe the closer we draw to God in our personal relationship, the easier it is to see and hear Him when He speaks. And though for years, I allowed that well-meaning friend's remark to "scare" me, I began to ask God to speak to me about my fear. Time after time, I've read scripture that encourages me to not be afraid, but instead be courageous, God is with us. Can't honestly say that "saying" don't be afraid, stops my fear. It doesn't. Nor does my fear drive me away from the Father. Instead, it drives me toward Him. I've learned my safe haven is in the arms of my God. He understands my fear and never once has the Almighty smacked me down for being afraid. But EVERY TIME, He has taken me by the hand and helped me forge through. Do I think God wants me to be afraid? Heavens no. I'm sure He'd prefer me not, but He uses my fear to draw me into His arms and help me through.
I've been spending time sorting through my spiritual life. Fine-tuning. Praying. TRUSTING. And when I am afraid, I lift my arms to heaven and remind God, that He knows my weaknesses and He'll have to pull me through and show me what I can learn from the experience. Many times, my fears are more worry as opposed to shaking in my boots. It helps to take time in prayer and ask God to define what I am seeing. Clarity often helps me see the things that appeared bigger than life, were in fact, flakes.
My point is simple. As you progress in your writing career, you're going to hit walls of fear. It may be to enter a contest, or even attend a conference. It could be talking to an editor or agent. Fear always manages to seep in. I'm currently on a two-book deadline due Nov. 7 - I am scared to pieces. What if I can't make this deadline? What if my work stinks? The what-ifs will drive you batty. Close them out.


Just as in our Christian walk, we run across an experience that appears to be more than what it is. It's easy to grow angry and blame God, easier to walk away from the arms we thought let us down, rather than stop and ask for clarity and peace – understanding. We miss so much when we believe that we are the only ones who hold answers, when picking apart our spiritual insecurities allows us to see the truth. God can work in tilled soil, even if there are a few clots to smash. (Shoot - look at me - Class A Coward). But when the soil has hardened, then there is no room for Him to get in so He can work.
When well-meaning souls try to "fix" us with good intentions, and misguided spiritual advice, be like the Bereans. Question. Seek. Search the scripture. God will never fail to direct you to the clarity you need – even when you might be a little scared. Attending a conference can be frightening. Intimidating. But do not fear. Be strong and of good courage. You have the King of Overcoming right behind you.

(This is the first of three blogs on Fear - visit my site and read the first two. Number three is coming.
www.cindysproles.com)

Much love,
Cindy Sproles, Director ACWC