CURRENT UPDATES - ARRIVAL

Prepare for Arrival at Ridgecrest
THE WEATHER -
So it's no surprise in February that we get a touch of snow. It is the mountains! And Thursday is calling for a wintery mix which is really nothing to be concerned over. It may snow a little but according to the weather reports it will melt as quickly as it hits and it shouldn't stick on the roads. THIS CONFERENCE GOES ON REGARDLESS OF THE WEATHER. If you decide not to come, there is no refund at this point. We have NEVER had an issue in the Asheville-Black Mountain area. Even if it does snow, the NC DOT has things cleared within a short time so the roads are good and there is no issue. Friday, the high is 40 which means, there probably won't be anything but a rainy ick. So don't panic. Take precautions and pray for perfect weather. Things will be fine. If anyone has a hard time getting to Ridgecrest it will be me skirting across the top of two mountains and I'm not the least bit concerned. So pack up, be ready and be cautious.
____________________________________

FLU Season - As you know we are still in flu season and I've had a conferee express a concern so I will address this as well. Every year this conference falls during FLU SEASON. Our conferees have always been vigilant about precautionary measures to prevent the spread of germs. I encourage you to please: 1) if you have a cough, bring and wear a mask. (We do not provide these. If you are coughing it's your responsibility to be a good steward and kind and purchase the necessary items you need to prevent the spread of germs.) 2) Purchase a travel size hand sanitizer.. .in fact, buy two and use them if you are coughing and even if you are not. 3) I know it's wonderful to reconnect and hugs are the first thing we want to do, but if you are fighting a cold - DON'T HUG! We'll all understand and we'll love you anyway.

If you feel as if you are running a fever, then please, stay in your room. Please be considerate of others during this rough season of flu and colds. The MP3s will be available for every class. You won't miss a thing.


We are lodging in Mountain Laurel West. Check in will be on the conference level of this building. DO NOT GO TO PRITCHARD. Come straight to Mountain Laurel West at the top of the hill. There is parking on both ends of the hotel and in front.

The 2020 Roster will be available in early February. We will send you a link to this page when it is available. Unless we have made an error on your email address, there will be no changes made once this is published.


CHECK IN:

*Early bird classes will begin at 1:00 p.m. and will be held in the Jim Henry Auditorium on the conference level of Mountain Laurel.

*Leave your suitcase in the car. Check is 4:00 p.m. Just bring yourself, a pen and paper, and come to the early bird classes.

*Check in will be at the door of Jim Henry. We will have a table set up with three or four ladies who will give you your room key & number, have you sign a liability release, give you your conference book, and provide you with your meal ticket. Please do not ask to check in early. Short of a couple of necessary arrangements, rooms will not be ready until 4 p.m. If Ridgecrest is done turning the rooms from the conference in front of us, they will give us the okay to hand out your room keys earlier. Otherwise, check in is 4 p.m.

*Dress is casual – Jeans and sweaters are fine. Dress modestly and warm. You never know how the weather will be, but I have yet to sit in a conference room that wasn't like ice. Do keep in mind you are at a Christian facility and though you are not required to be dressy dressy, we do ask that you are presentable. Keep the holey jeans at home. Don't be slouchy. Shoes are required.

*Let's be neat – In this world of "easy", it's very EASY to leave your trash behind. I encourage you to be kind. We are at Ridgecrest under the name of Christian Devotions. Take time to clean up after yourself. Ridgecrest is wonderful. You'll enjoy your stay there. Vending machines are located on each floor. If you want something additional to drink, bring some coins for the machines. Put your trash in the trash can.

*Print before you arrive – Please print anything you will need prior to arriving at Ridgecrest. We do NOT have printing services. If you think you may need something printed – print it at home and bring it with you. In fact, bring two of everything. Be professional and prepared. Print your roster, any writing work you will be using for appointments.

*FOR EARLY BIRD CLASSES – Go to downstairs in Mountain Laurel to the Jim Henry auditorium.

*Welcome to the Asheville Christian Writers Conference! You'll be greeted by the lovely and loving, Dee Dee Parker and Beth Fortune, Andrea Merrell, Kevin Spencer, Bennie and Eddie Jones, Wendy Leech, and Cindy Sproles.
AND A HUGE SIGN THAT SAYS THE ASHEVILLE CHRISTIAN WRITERS CONFERENCE! You sorta can't miss us.

*Dee Dee and Beth, along with Andrea, will greet you on the lower level of Mt. Laurel. If you walk down the steps you will look to your right and see them. If you come off the elevators you should be facing them. If not, well, work your way through the auditorium and YOU'LL SEE THEM.
These ladies will check you into the conference and into the HOTEL. If you arrive early, they will give you your badge and meal ticket, along with your conference manual. HOWEVER, room keys are NOT AVAILABLE UNTIL AFTER 4 p.m. So please don't ask for your room key before that time. If it is available when you pick up your conference material the girls will give it to you. If they don't offer, please don't ask. They won't have them. You will have to return at 4 and get your key. Ridgecrest is flipping the rooms from a conference that just checked out. Be patient. Leave your bags in the car. There will be plenty of time to get your room. THE EXCEPTION is faculty. We are working with Ridgecrest to get your rooms made available first. Again, the girls will let you know if your room is ready.
Our staff is very warm and friendly. They are there to welcome you in, talk with you, pray with you, and make your stay at the conference glitch free. Martin Wiles will provide our recording services this weekend, while Wendy Leech will be helping you make a deposit for 2021, and help you purchase MP3s. Bennie Jones and Kevin Spencer will head up the bookstore. They'll help you with those purchases. Eddie Jones and I will be there to welcome you into the ministry of Christian Devotions and our faculty will be wandering around. They will be spread out through our tables at mealtimes, so join them and enjoy a meal. They are eager to meet you and chat. Johnny Brush will lead our worship and well…there's nothing more to say about that other than your heart will be warmed.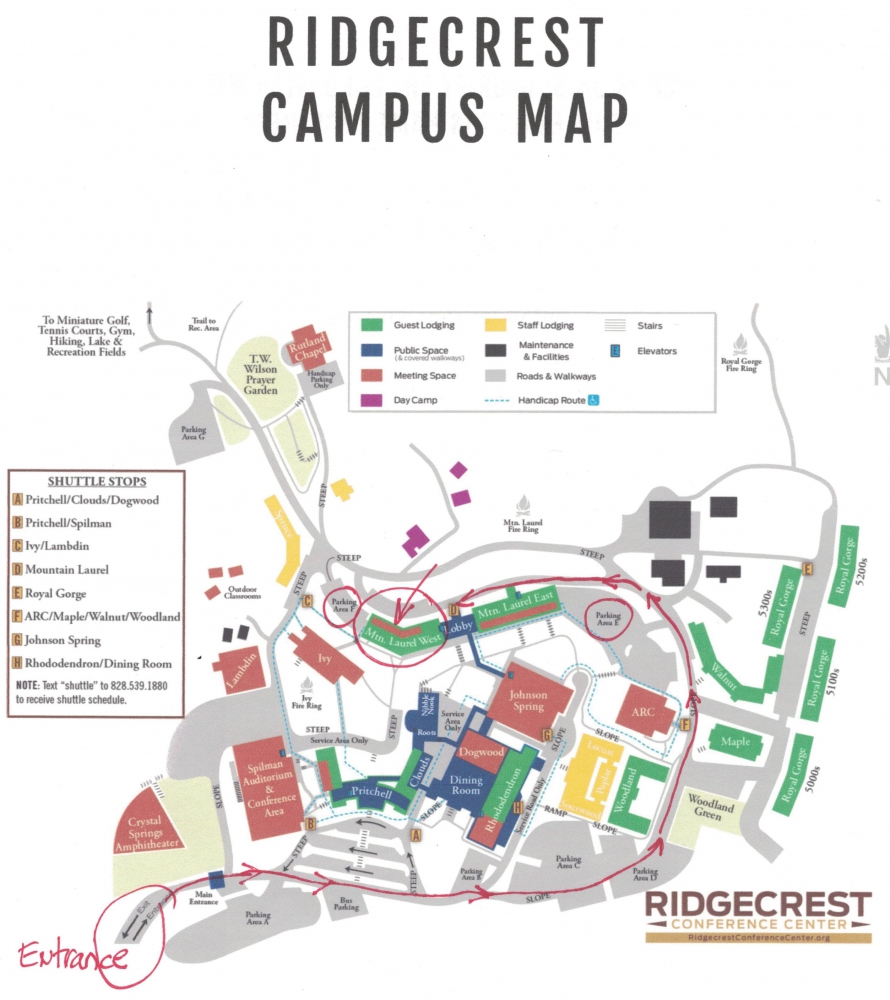 *Early Bird classes begin at 1:00 – But our teachers understand folks are arriving at various times. So quietly go in and become a part of the class. CLICK HERE FOR OUR SCHEDULE – and note: your schedule is also printed in the ACWC Manual.

*Please be sure to sign a liability release form. We will have these at check-in when you arrive for early bird classes. Below is the release so you can read it in advance. We must have this signed per our event insurance policy. If you do not agree, you cannot attend the conference. It's an insurance thing!
Liability Release Form (SAMPLE)



Liability Release Form

To: Christian Devotion Ministries

From: [Participant's Name] _____________________________ Date: February 21, 2020

Dates of Event(s): February 21-23, 2020

Event Name: Asheville Christian Writers Conference

In exchange for receiving permission to participate in the event organized by Christian Devotion Ministries, I, for myself and my family, heirs, executors, and representatives, agree to the following:

*I assume the risk of any harm or injury that may occur as a result of, or in connection with, my participation in the Event(s). *I accept full responsibility for myself, my actions, and my possessions while participating in the Event(s).

*I release Christian Devotion Ministries, Ridgecrest Conference Center, their members, officers, employees, agents, staff, faculty, and volunteers from any and all liability, costs, damages, or other claims that may occur as a result of, or in connection with, my participation in the Event(s). *I give my consent for Christian Devotion Ministries, its members, officers, employees, agents, staff, faculty, and volunteers to assist me in the event of an emergency, including seeking emergency medical treatment on my behalf and I agree to accept financial responsibility for the costs related to any medical treatment.

*I agree to conduct myself and behave in Christian manner, treating all individuals with respect, consideration, and charity, at all times during my participation in the Event(s). I agree to refrain from any behavior that is threatening, violent, aggressive, or sexually or morally improper.

*I agree to report to Christian Devotion Ministries any behavior by others that I witness that does not meet this standard.

*I understand that if I engage in inappropriate behavior or fail to report inappropriate behavior that I witness, I may be asked to end my participation in the Event, and if asked, I agree to abide by the decision.

By signing below, I represent that I understand and agree to the foregoing statements:



Participant's Signature Date




*After things wind down in the evening, many of our conferees meet in the lobby of the hotel and chat. In fact, we encourage you to spend time with one another. We also ask that small groups meet in the lobby of the hotel rather than in one person's room. This is a safety issue as well as a noise issue. We love for you to enjoy your writing peers. We simply ask you keep the noise down for those who choose to rest. Off campus folks are welcome to stay around and visit before you head back to your hotel.


*APPOINTMENT SIGN UP – Please, please, do not forget you are human and turn into a trampling stampede. There will be plenty of space for you to make an appointment with the faculty member you wish to speak with. If you miss one, share a meal table and chat there. Terri Kelly will explain the process to you after Friday Supper. WHICH TELLS YOU – Signups are after our main session Friday night.

QUESTION CENTER – If you have questions ask Dee Dee and Beth. OR you'll find Wendy Leech, right outside Jim Henry Auditorium or down the hall in the Bookstore. Our rooms will be marked with signs so you know exactly where to go. All three will have a radio to contact me if they cannot answer your questions. Please do not bog down our bookstore staff with questions. They have their hands full just consigning books and setting up the bookstore so you can glean and shop Friday night, Saturday, and early Sunday morning. Actually, if you're patient, we'll answer all your questions on Friday night. I promise.

WHERE ARE CLASSES HELD? – All classes are on the lower level (conference level of Mountain Laurel. We will give you directions on Friday night after supper. Don't panic. You CAN'T GET LOST IN ONE HALLWAY.

REPEAT – PRINT BEFORE YOU ARRIVE – We do not have the ability for you to print documents at the Cove. We are not paying for that service. Please print all you need to print PRIOR to your arrival at the Cove. WE CANNOT PRINT DOCUMENTS FOR YOU.

PROPER ETIQUETTE FOR APPOINTMENTS – We practice the hummingbird hover. 15 minutes passes quickly, and we want everyone to get their time fairly. If you arrive to your appointment and it is TIME for your appointment, just nicely walk up behind the person seated with the faculty member so you can make eye contact with the faculty member. This gives them the cue it's time for your appointment. All the faculty tries their best to stay on time with their phones, but occasionally we get one on of those people who refuses to stop talking. Your hummingbird hover allows the faculty member an "out". And if you're the one in the seat, be polite and end your appointment time. Chat with the faculty member during a meal or in line at the dining hall, or in the lobby.

GIVE US GRACE – We have no control on the speed of the internet at Ridgecrest. Rest assured we have tested our computers and our charge card machines. But we cannot control the bandwidth. Sometimes it grinds down to a snail's pace. Give us grace. We're doing the best we can. If you want to jot your card number, expiration, code on the back and zip code down on a sheet of paper and give it to the staff along with your purchase, they will return that paper to you in your bag with your purchase. Otherwise, know we are working hard to move as quickly as possible.

WORSHIP IS NOT RECORDED – We cannot record Johnny's worship songs. This is not us, it's a copyright issue. We are small and can't afford to pay the copyright costs to record music. If you love Johnny's music, leave him a small gift of your appreciation with the Bookstore. Tell them it's for Johnny and they'll place it in an envelope just for him. Our sweet LaTan was unable to attend this year due to health issues with herself and caring for her aging momma. Johnny stepped up to help us on a whim. We are grateful. If you'd like to show a little added love, then leave him a little something with the bookstore and we'll get that to him.

All you really have to do – is enjoy! Choose the trac you want to follow and stick to it. Purchase the mp3s and get ALL THE CLASSES. Your manual will have every handout. Between the two, you have all you need once you get home to continue your learning.